I completed my first ever ATC! For those who do not know, an ATC is an Artist Trading Card. It's basically a small work of art (can be anything, collage, a simple picture, a word, etc).... they are the size of baseball cards, which is where the idea originated.
Anyway, I joined a swap on
Swap-Bot
for a Pirate vs. Ninja ATC swap. The idea is to creat one Ninja themed ATC and one Pirate themed ATC. I made the Pirate one first and it came out AWESOME! I found the little compass in the scrapbook sticker section at JoAnns. It was The "O" in the word Boston. It was a 7 piece set and I took the ship from there, too. The island is named Teach Isle.... named for Edward Teach, aka Blackbeard :). I had a lot of fun planning this out... and even MORE fun making this! I have to make a ninja one now... My printer is out of black ink though so I'll have to see if my mom's printer works when we head over there today. We're doing a late celebration with them for Randy's birthday (which was the 5th). I made a cake and I need to frost it before we go over there. Anyway, that's gonna be it for now!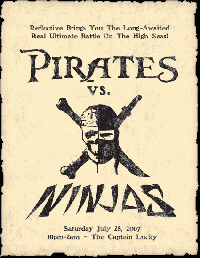 I swap with Swap-bot!