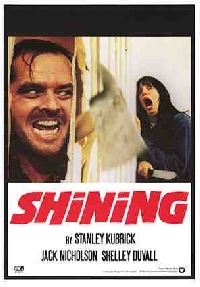 I swap with Swap-bot!
OK so I'm going to use this post for any pictures of the ATC. I will be working on it tomorrow... haven't done much on it, gotta get going!!! Come back soon for updates!
So here it is :). We were told to keep the ATC simple... make it look like something that could be used as a promo poster. So, this is what I came up with. We weren't supposed to have a lot of words, but honestly- I didn't want to just print out a picture of Jack Torrance and try to go from there. So, I typed up "All work and no play makes Jack a dull boy" over and over... which if you know anything about the movie, is what Jack Torrance has been typing the whole time he was "working". I printed out the name of the movie. And then I took red acrylic paint and with a toothpick that I kinda flattened the point of, I painted (painstakingly) the words REDRUM. The girl who got it really likes it, which is the goal right? :D. Overall- I am very, very pleased with this ATC. Hope you like!