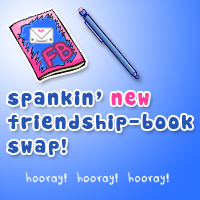 I swap with Swap-bot!
Ok, followers of The Blog... I am now into Friendship Books (or FBs, not to be confused with facebook, also FB or fb....). I joined a swap on the ever-awesome
Swap-Bot
for friendship books. This swap is newbie friendly, which was a relief. MOST all of the FB swaps I've came across have been for already established books. I've never made one before, so I never wanted to join any of those. I've been reading up on them and it seems like a small, quick, fun craft. I know I'll make mine decorated... but I don't require anyone decorate their pages... I understand that those are called "decos". Anyway- if anyone is interested in penpalling and fb's, please send me a message: histechnoangel at yahoo dot com. If I can remember to, I'll post some pics of the books I make. I've already received two. One was very easy to understand, beautifully done. The other is very confusing. It looks like the book is supposed to be sent back to me, instead of the person who made it. It already has my info in it! So.... I dunno what I'm supposed to do with it, since my name & address has already been put in by the person who made it. At any rate, this is still a fun new craft.
I feel kinda bad as I've completely neglected my crochet work. I've BARELY done anything. But, when we had our own place it felt like I had more freedom to do such things. I don't feel so free right now. Weird.... I can't explain why. BUT I need to get off my butt and get to getting. I have items that need to be made for gifts. I'm excited about that. My orchestra is actually having a christmas party this year. I decided, after much debate, that I will make everyone a gift. I settled on an ornament :). It will be music-themed of course. I will get something separate for the conductor and for my principal (first chair/section leader) clarinet. They are both instrumental (bwahahah) in helping me better my abilities. I want to do something special for them..... just haven't figured out what :/. If anyone reads this and has a suggestion, feel free to throw it at me.
OK I think that's everything at the moment. If I think of anything, I'll post more later! Have a great day :).